The Artist
One of the last of the purists, from the gharana that shaped the ati-vilambit 48-beat ektaal khayal, and the long-form Bengali thumri.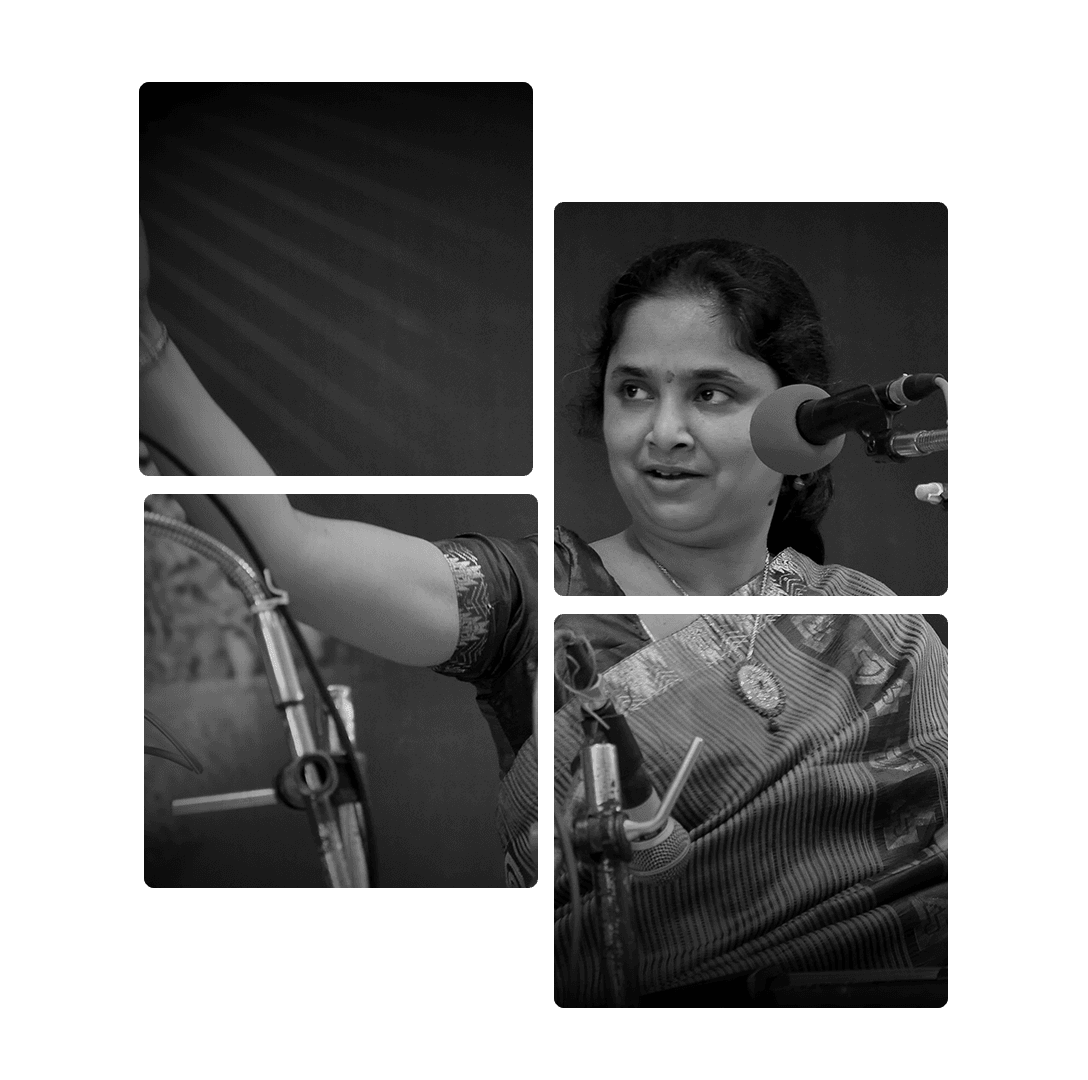 A deep-timbre voice
The raw power
The melody
Super-fast taans
Mijaz and Raagdari
Jazz-esque improvisations
The long Badhat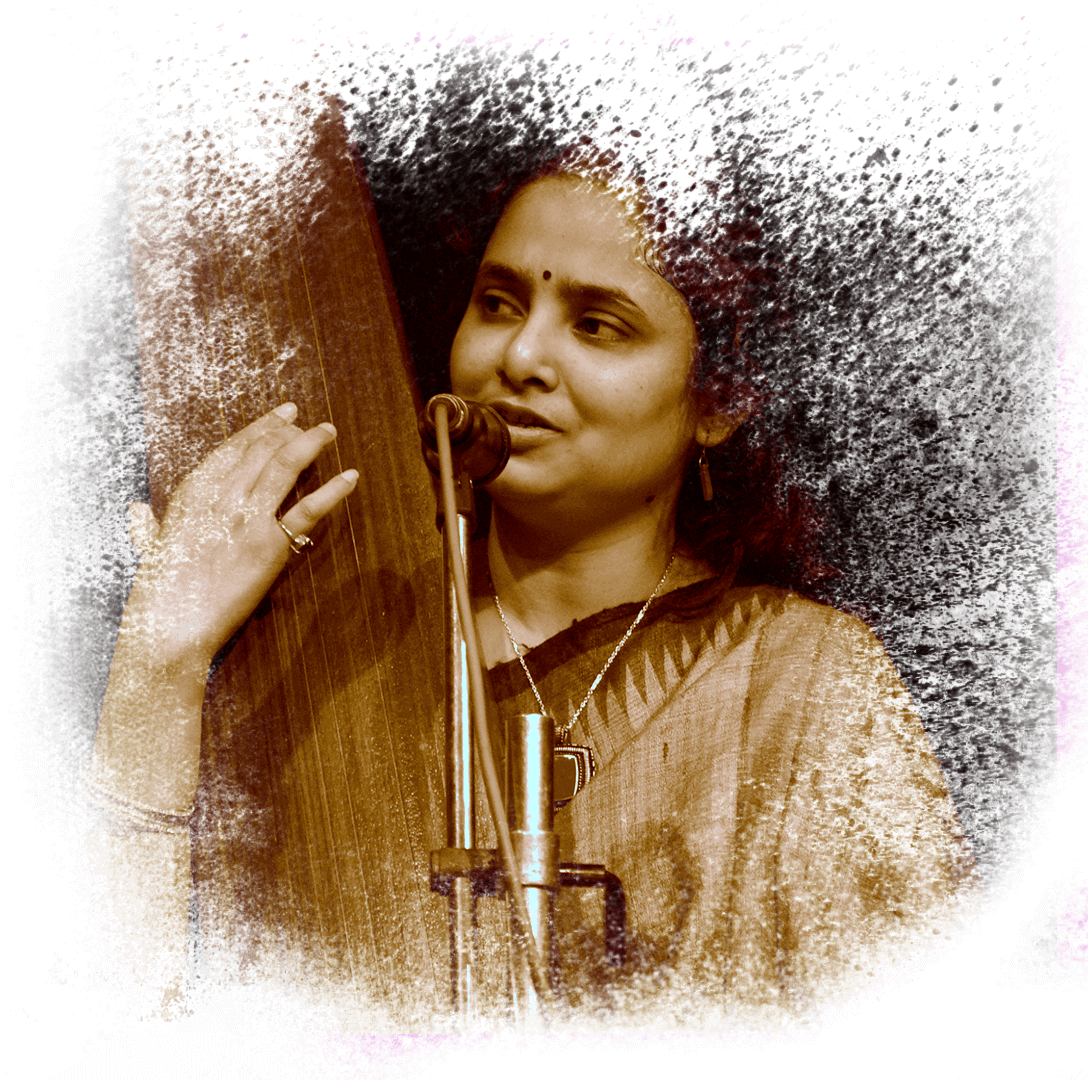 Her professional concert performance career spans two decades, across the major Indian Classical conferences in India, USA, Canada, UK and Central Asia.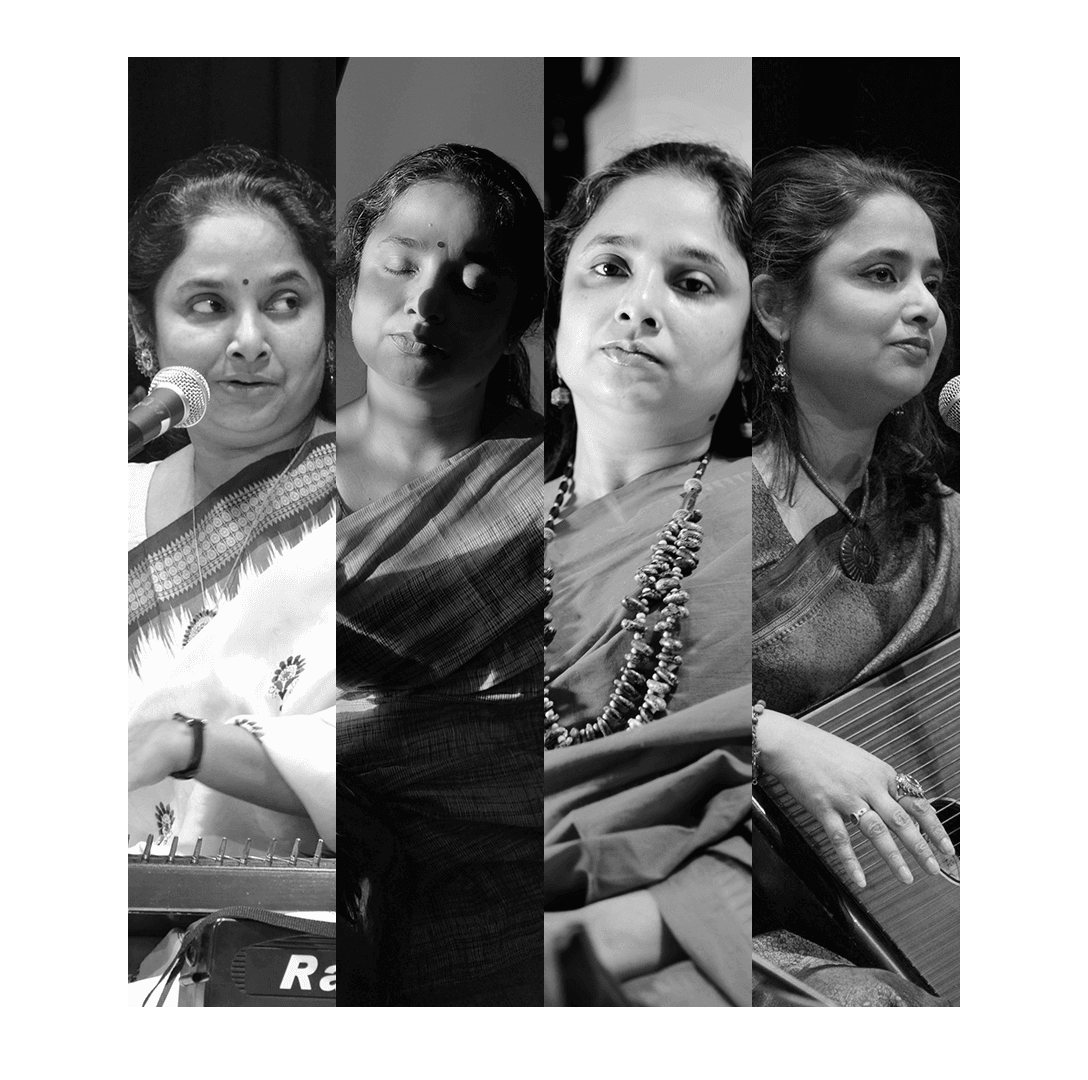 Empaneled artist of SPICMACAY
Empaneled artist of ICCR (Ministry of Culture, Govt. of India)
A-Grade artist of All India Radio
Jadubhatta Award
Fellow of The Ministry of Culture, Govt. Of India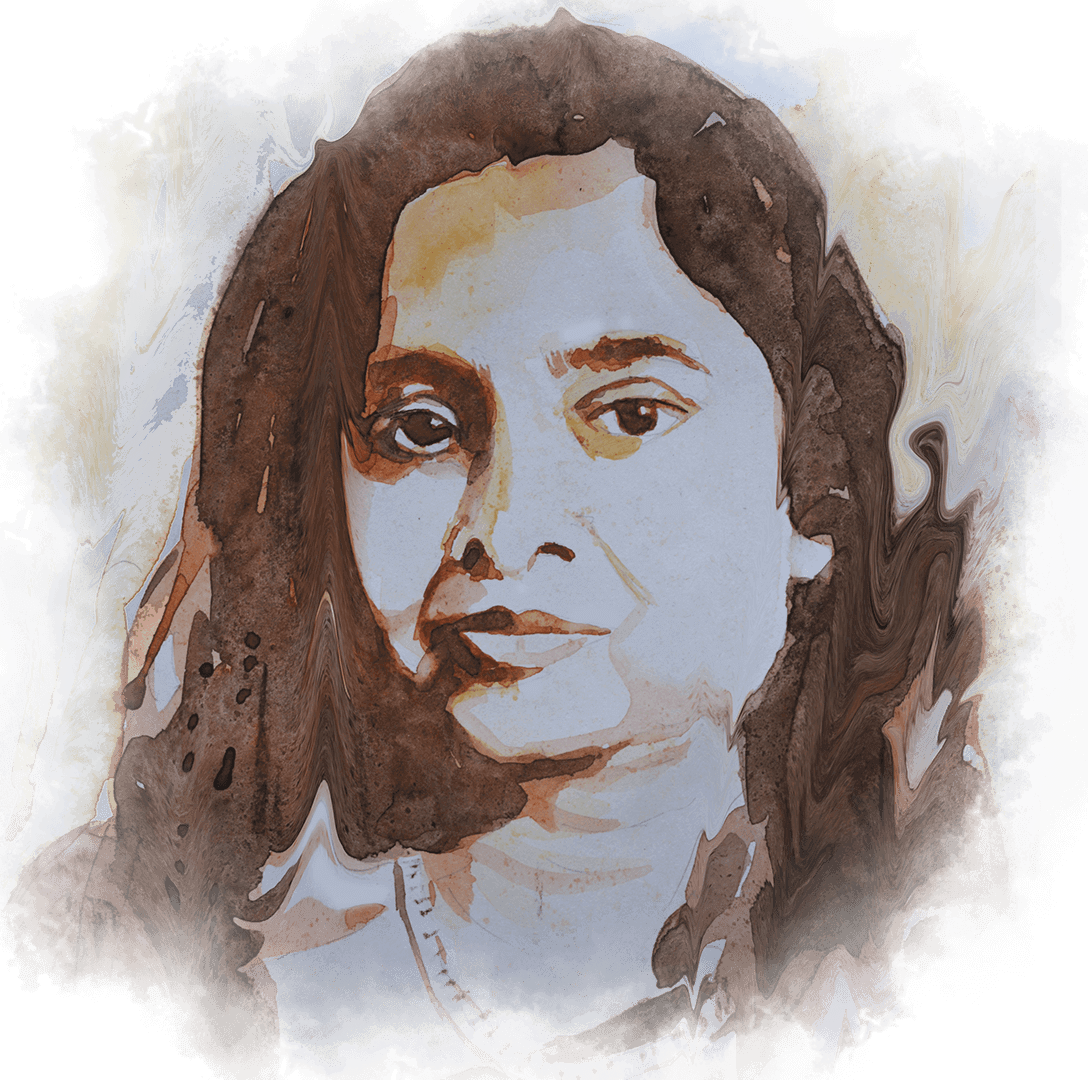 Her repertoire includes Khayal, Tap-Khayal, Tarana, Chaturang, and Indian Semi Classical music e.g. Tappa, Thumri, Patjhar, Bhajan, Jhoola, Birha, Chaiti, Kajri,Sawan and Jaad Ke Geet. She also renders Bengali Thumri and Bengali RagPradhan, compositions which are quintessential Kotali Gharana items.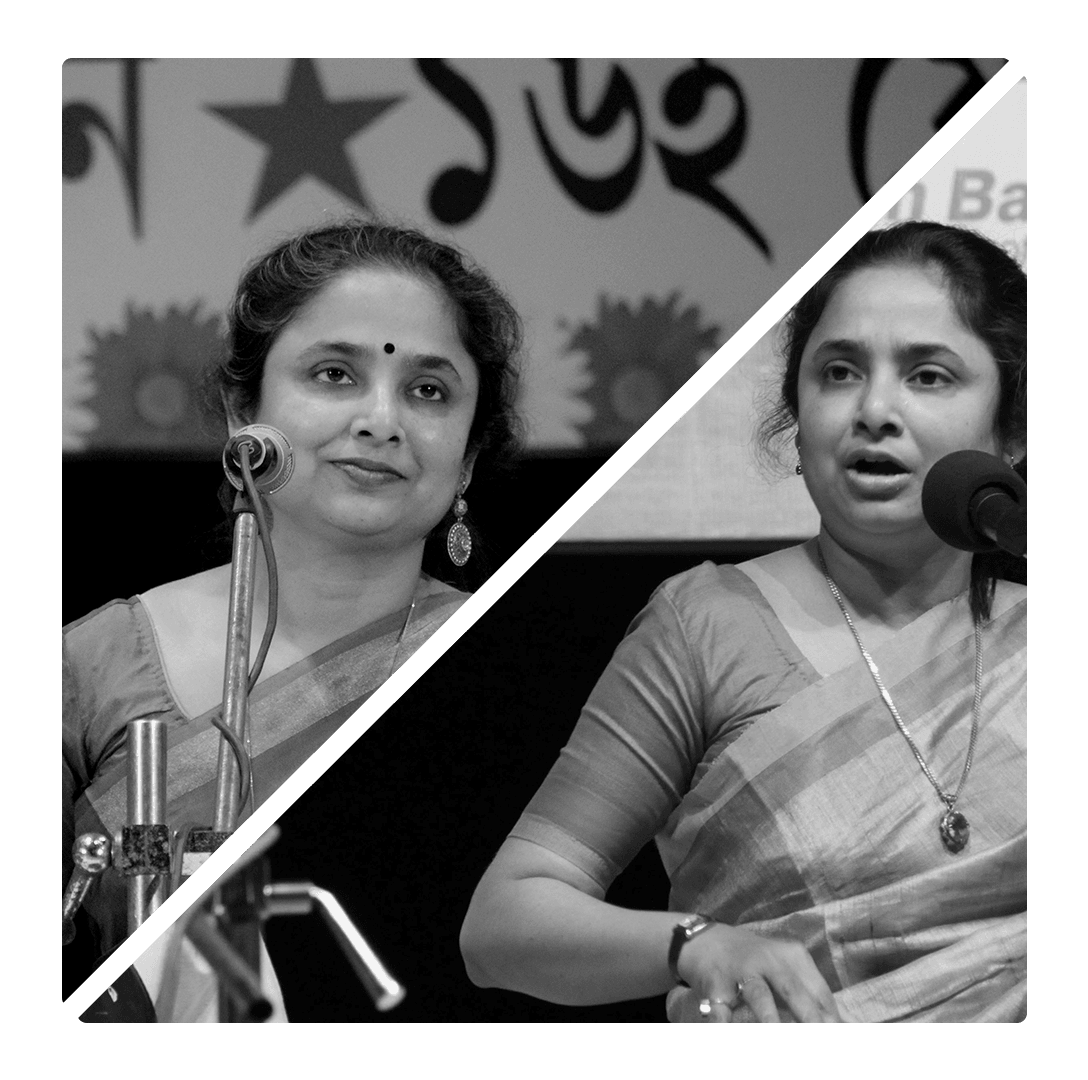 The Journey
Pandit Manas Chakraborty, son of Sangeetacharya Tarapada Chakraborty who was the founder of the Kotali Gharana, trained her for 25 years. Ruchira also completed her Masters in Economics from Jadavpur University.
On her mezzo-soprano voice
….I have an unusually deep voice, and when I was 12 or 13, it was not flexible at all. Because of my tone, seniors used to call the pint-sized me, the mini Gangubai Hangal. My GuruJi, against everyone's negative predictions when I was little, used all his knowledge of training the vocal chord and adjoining muscles, to turn things around, and made it an asset, an almost operatic chest voice in the upper registers. I also became able to produce the fine kan-swars( touch-notes) in a fast vakra-taan. In a thicker voice this is much harder to pull off than in the lighter, mellower female voices that are more in vogue. [ Excerpted ]
Some Worldwide Performances
The Dover Lane Conference (Kolkata)
Sant Harivallabh Sangeet Sammelan (Jalandhar)
Nehru Center ( London )
LearnQuest Annual Conference (Boston)
Kalakendra ( Portland )
Saptak (Ahmedabad)
Tansen Sangeet Sammelan (Gwalior)
Pandit Bhimsen Joshi Festival (Jalgaon)
Ustad Amir Khan Festival ( Indore )
Sharq Taronalari ( Samarkand )
Jashn-E-Deccan (Hyderabad)
Raga Music Circle (New York)
Chinmaya Mission, Kalanjali (Los Angeles)
SIMA (State College, USA)
Sangeet Piyasi Silver Jubilee Festival (Kolkata)
Gunijan Sangeet Samaroh (Indore)
Basant Bahar (Fremont, USA)
Sarb Akal Music Festival (Calgary, Canada)
SIFAS Singapore
Ragmala (Toronto)
Chitresh Das Dance Company (California)
Bharatiya Vidya Bhavan (Kensington, UK)
Ali Akbar College of Music (San Rafael, USA)
On not-so-or'nary performances
….Once Ali Akbar Khan saheb called me over to perform at the AACM, San Rafael. And asked me to sing Raga Loom, which is Baba Alauddin's creation, and his bandish had already travelled to Kotali Gharana through my DadaGuru. After my concert, he told me "Amar shorir aar bhalo nei. Tumi amar college e classical vocal shekhao." ( I am unwell…so please take over the classical vocal section of my college). He called up my GuruJi to ask for his permission. My GuruJi said yes. Despite the allure, I said no. For me staying outside Kolkata, away from the environment of GuruJi's house, was unthinkable.[ Excerpted ]
Paramparik
Ruchira founded "Paramparik", a non-profit charitable organization, in 2001. Paramparik has helped over 8000 sons and daughters of the marginal farmers and daily laborers of West Bengal, to become doctors, engineers, teachers and nurses.
Paramparik has held the prestigious Paramparik Annual Conference in Kolkata since 2001. Almost all the leading artists of Hindustani Classical have graced the Paramparik stage, and a few Carnatic musicians as well.
Paramparik has also started Paramparik Sessions – Kolkata's first all-vocal, yearly classical conference, to be held in March-April time frame.
On Students and Learning
….Being a great musician or a poet cannot be the locus of a human life, but these are some of the stepping stones towards inculcating humility, philanthropy, empathy and a broad worldview. That worldview actually helps in moulding the creative musical brain, and the poetic mind. Enjoy and feel the world, the blade of grass. Read. Read a lot. Stop rote learning – talk to your music so it talks to you. Performances are the easier part (sic).[ Excerpted ]
On RaagDari
…When it comes to Raagdari, I tell my students to do an extensive analysis of how different artists and gharanas have approached a Raga. That is a staple process in our gharana. My GuruJi taught me to objectively question everything, even himself, since that is a primary ingredient of independent thought. We have endlessly debated a particular application of a note, and such was the intellectual maturity of the man that though I was proved wrong in most cases, a couple of times ( and after we stopped talking for a couple of days ) he came back and acknowledged that my view was the correct one.
…When it comes to the authenticity of Raagdari, my first reference is my GuruJi and then Pandit Ravi Shankar. Both, extremely conscious of the grammatical boundaries of Raga music, yet both radically innovative, both polyglots and they also shared a mutual respect along these lines. This approach gives our music such a fresh and authentic mijaz, free from the dogma of mannerisms copied down the centuries. It is ironic that both died the same day, 12th of December, 2012.[ Excerpted ]
On Creativity
…The first and foremost attribute of our ( Kotali ) approach to music is creativity and live melodic improvisation. In my world, the musical landscape is fluid, unknown, full of magic. The artists sitting in the front row of my GuruJi's concerts would eagerly imbibe as he freely composed and sang spectacular bandishes live on stage. Each concert would mean exploring new avenues of a Raga.
…Singing the same thing again and again in fifty concerts made no sense to him, neither does it appeal to me. Without that relief of taking up the challenge of going after something unexplored, there is little enjoyment in being on stage. Picking up a raga that one has not sung in a full year, right on stage, just like checking out an old friend to see how time has moulded the dynamics, has its own rewards. Same with creating a fresh bandish in the green room that feels more appropriate for a concert scenario.[ Excerpted ]
On Students and Riyaz
…We, the clan of professional musicians, have all gone through the usual grind. But I strongly encourage students to also accompany me into fine arts, literature, world music, sculpture, philosophy, Zizek and Debiprasad, Tagore and Morrison, Larry Coryell and Ustad Abdul Karim Khan, Monet and K.G.Subramaniyam, Lara Fabian and Lata Mangeshkar – because doing only riyaz or focusing on music is fine but may not produce a perceptive, creative, intellectually fully aware individual – any primer on neurobiology would affirm that fact.
On Custom vs Culture
….Bengal is lucky that among other social reformers and intellectuals of the famous Bengal Renaissance, we had Tagore, who was the bedrock of the subsequent century of intellectual maturity of the Bengali milieu. He shaped the core DNA of future Bengali, her aesthetics, finesse, philosophy, language, art and culture – quite different from the rest of the Indian subcontinent. Tagore freed up a whole population from the anarchy of rigid cultural traditions. His aesthetic eye tended to look with suspicion, the tendency of passing less changed ( read "gharanadar" ) forms of music as original ( and therefore, as if of higher value ). The reformer that he was, set the standard of musical experimentation, through pruning and regrowth. A full six or seven generations down the line, we know for sure that any biological or cultural entity that does not adapt and evolve, does not match its time, and will perish. So many art forms have come and gone with the wind, leaving their cultural offsprings to rule the space.[ Excerpted ]
On Lyrics
…It is important to be in love with words and the power they wield when in the vicinity of other words. Originally folk traditions, arcane Saas-Bahu, Nandlala or Ramlala constructs have played their part in the formative years of the Indian bandishes [copied down for generations], but we have come a long way in Bengal, into more modern and abstract lyrical constructs, thanks to Tagore, then the likes of Jibanananda, Buddhadeb Basu, Shankha Ghosh, Bhaskar Chakraborty – the firebrand poets of the Bengali intellectual class.
…That gets reflected in the lyrics I create and/or like to sing. I typically sing my GuruJi's compositions, then my own ones , and then some curated traditional ones, in that order of preference. To illustrate the point with a concrete example, Ghalib is great [ Saki-Mehtaab-Jaam-Ishq iconographies], but my intellectual hunger can be fulfilled more by Faiz's latter writings and Ahmed Faraz.[ Excerpted ]
Click to enlarge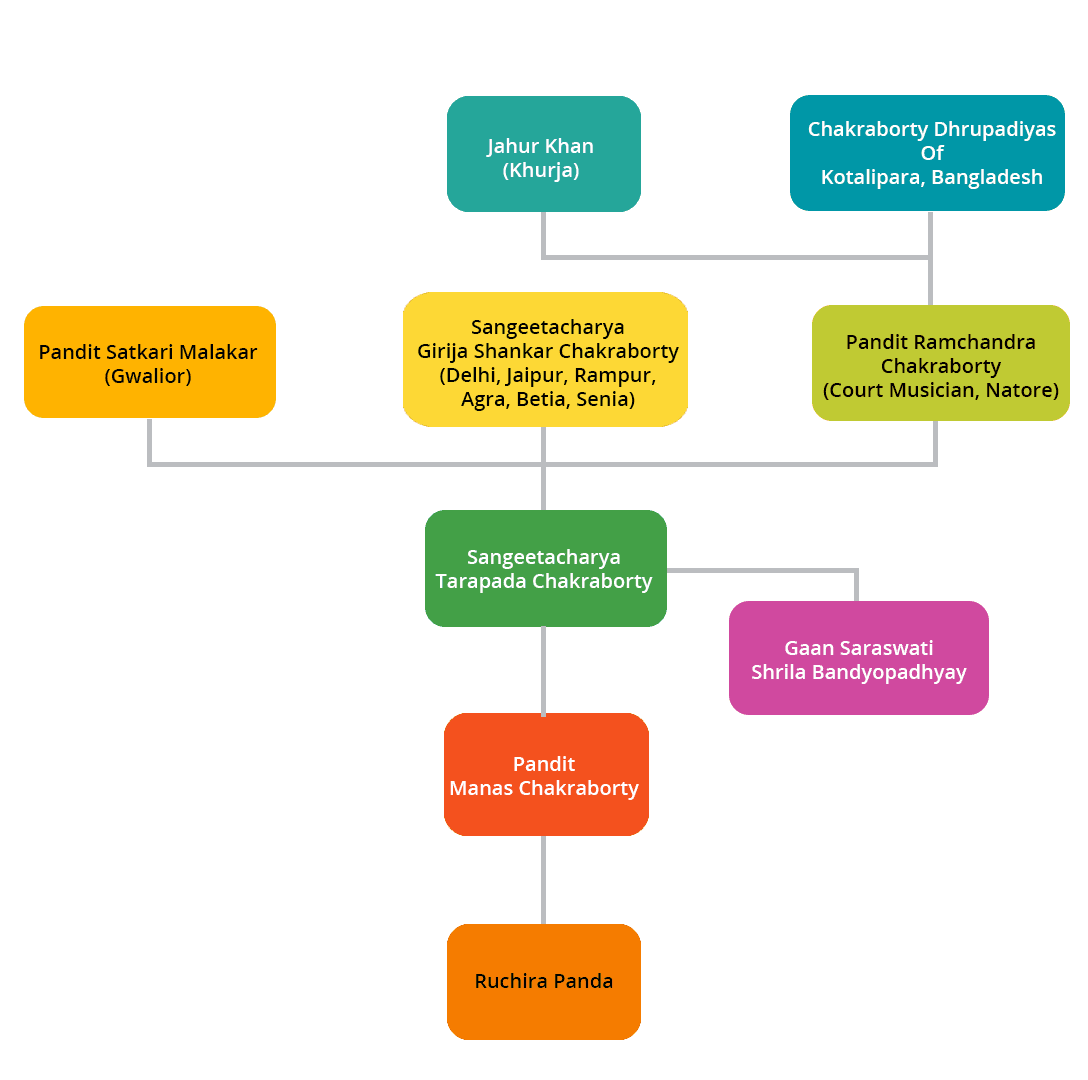 Sangeetacharya Tarapada Chakraborty
( 1909-1975 )
The first pan-Indian Khayaliya from Bengal, his 20-minute live recording of Chhaya-Hindol (1955) with Ustad Afaq Hussain Khan on Tabla, is enough demonstration of the genius of the man. His musical memory, halak taan and simplicity are stuff of legend. He is credited with the currently ubiquitous 48-beat (4×12) ati-Vilambit ektaal khayal format. A Ratna(Gem) Fellow of Sangeet Natak Academy, and an unassuming person, he famously chased away the Government representative delivering the Padmashree Award news.
Tarapada Chakraborty – A Short Take On A Towering Bengali icon
Pandit Manas Chakraborty ( 1942-2012 )
It is said that in Hindustani classical vocal, he had the best sense of aesthetics and the deepest intellectual grasp – needing the most astute listener of Hindustani classical to map his canvas. A polymath, he shaped the current form of Kotali Gharana, and created hundreds of khayal, tarana, chaturang, tappa, tap-khayal, thumri, dadra, birha/pasar/sawan/jaad ke geet pieces – many, while singing on stage. He also made the long-form (boro gherer) Bengali Thumri and Bengali RagPradhan standard fare in concerts. Being primarily Bengal-bound and publicity-averse, this musical genius is little known outside Bengal.
The Long-form (Boro-Gherer) Bengali RagPradhan
The Long-form (Boro-Gherer) Bengali  Thumri
Concert Videos
Tap Khayal ( Raga Ripples )
City : Studio Album Track
Year : 2019
Raga : Bhairavi
Ali Akbar College of Music
City : San Rafael, California, USA
Year : 2006
Raga : Puriya Kalyan
Bin Sawan ( Crossing Over )
City : Studio Album Track
Year : 2018
Raga : Indian Classical Fusion
LearnQuest Music Festival
City : Boston, USA
Year : 2017
Raga : Puriya Dhaneshree
Tansen Sangeet Samaroh
City : Gwalior, India
Year : 2015
Raga : Shudh Sarang
Bangiya Sangeet Parishad
City : Kolkata, India
Year : 2019
Raga : Charukeshi
Baba Harivallabh Sangeet Sammelan
City : Jalandhar, India
Year : 2014
Raga : Chandrakauns
Sangeet Piyasi Classical Music festival
City : Kolkata, India
Year : 2016
Raga : Dhulia Malhar
DoorDarshan TV
City : Live Interview ( English Subtitles )
Year : 2019
Raga : History And Demonstration Of Kotali Gharana
Salt Lake Music Festival
City : Kolkata, India
Year : 2011
Raga : Mishra Piloo
Sangeetacharya Tarapada Chakraborty Centenary Conference
City : Kolkata, India
Year : 2010
Raga : Mishra Champakali
Ambadevi Music Festival
City : Amravati, India
Year : 2013
Raga : Mishra Bhatiyar
Shri Kallol Basu Memorial Concert
City : Kolkata, India
Year : 2018
Raga : Mishra Khamaj (Bengali RaagPradhan)
Events
BANGIYA SANGIT PARISHAD
Whole Night Classical Music Programme
At
RABINDRA SADAN
Saturday, 16th february, 2019 from 10pm
Vocal Recital : 3 am onwards
RUCHIRA PANDA
Ashoke Mukherjee ( Tabla)
Gourab Chatterjee ( Harmonium)
Tirumala Tirupati Devastan
NADANEERAJANAM
Live From
TIRUMALA
starting from 5th march 2019, Everyday, from 6 pm to 7:30 pm
Vocal Recital : 6 pm onwards
RUCHIRA PANDA
Kolkata
Hindustani Vocal
Gururao Deshpande Sangeet Sabha, Bangalore
all night music programme
At
pathi sabhangana, bangalore
saturday 2nd march 2019
Vocal Recital : from 9 pm onwards
PANDITA RUCHIRA PANDA
vidushi jayanti kumaresh
pandita subha mudgal
pandit uday bhavalkar
pandit vinayak torvi
KASHI SANGEET SAMAJ
In association with ICCR,
Varanasi
At
Sabhaghar, Kashi Mumukshu Bhavan, Assi, Varanasi
Sunday, 17th february, 2019, 6pm onwards
Vocal Recital : 3 am onwards
RUCHIRA PANDA
Kishan Ramdohkar (Tabla)
Jamunaballamdas Gujrati(Harmonium)